Top 10 Tourism Highlights for 2019
Top 10 Tourism Highlights for 2019
Sunday, December 22, 2019, 9pm by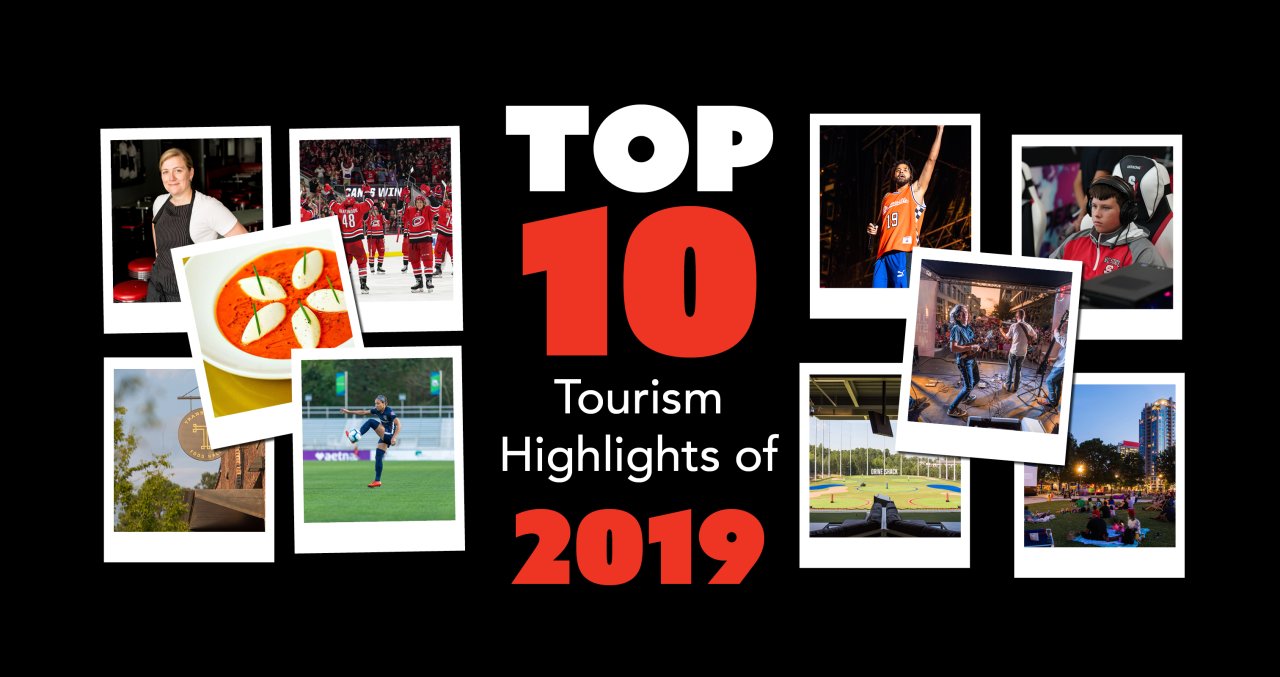 Everybody loves a "Year in Review" list. Here are our picks for the top 10 highlights in Wake County tourism for 2019 (YMMV).

10] The opening of new, high-profile restaurants helmed by celebrity chefs
—a five-time James Beard Foundation semifinalist for Best Chef: Southeast—added a second restaurant to his Crawford Hospitality restaurant group's portfolio. Jolie, a French bistro named for his daughter, opened in Aug. in Raleigh.

unveiled her newest dining concept in the City of Oaks. Poole'side Pies is a Neapolitan-style pizza shop inside a whimsical, swimming pool-themed setting. This is—without a doubt—Christensen's most fun offering.

Katsuji Tanabe—a renowned chef and three-time alum of Bravo TV's hit competition series Top Chef—has opened High Horse, featuring his signature playful style and a unique combination of Mexican, Japanese and American flavors in .
9] Drive Shack opens
—the interactive golf complex that caters to big groups looking for big fun—opened in Aug. in Raleigh. The three-story complex with ample free parking is located at 6901 Play Golf Way (not far from ). The 65,000-square-foot facility includes 96 golf bays, a full-service restaurant, a rooftop bar, more than 300 televisions, an arcade area, meeting rooms and more.
8] Carolina Hurricanes made Eastern Conference Final
One of the hottest teams in hockey, the NHL's surged into the Stanley Cup Playoffs with an historic late-season run. In round one, they took down the defending champions on the road in a double-overtime Game 7 victory. In round two, they made quick work of the New York Islanders with a four-game sweep.
7] Courage win second straight NWSL Championship
The top-seeded capped off an historic season with a 3-0 victory over second-seeded Portland Thorns FC to win the NWSL Championship. With the victory, the Courage cements its status as the best professional women's soccer team in the United States--and possibly the world.
6] Transfer Co. opens
, a food hall and market housed in a 43,000-square-foot renovated warehouse in downtown Raleigh's Olde East neighborhood (just a few minutes on foot from the , , and more), is open. The venue—the brainchild of founder Jason Queen—will serve as a gathering space for food producers, makers, vendors, restaurateurs, their guests and the local community.
5] R6 Raleigh Major comes to town
The inaugural event unlocked $1.45 million in direct economic impact for Raleigh, generating over 1,000 job inquiries, attracting more than 2,600 daily attendees, with over 70% of them traveling from other states and countries. Additionally, the event was broadcast to a global audience on Twitch in 15+ languages, garnering more than 16 million live stream views and over six million total hours watched.
4] Moore Square reopens
—a four-acre, urban park that was originally conceived as one of four public green spaces for the capital city—is now reopen to the public with a brand-new look, new features and a jam-packed calendar of events. Closed since late 2017 for a renovation and implementation of a new master plan, the City-managed park held a ribbon-cutting ceremony and massive celebration in August.
3] Dreamville Festival launches at Dix Park
Curated by platinum-selling rapper and N.C. native J. Cole, was a one-day, multi-stage, leisure-tourism event at with a one-of-a-kind celebration of local culture, food and art that also featured a curated selection of musical performers, blending together some of today's biggest national acts with exciting up-and-comers. Plus, it's coming back in 2020!
2] IBMA broke records
The International Bluegrass Music Association's (IBMA's) , brought to you by Chiesi USA, and festival saw a combined attendance of 218,301 in their seventh year in Raleigh. This year's festivities also generated $18.65 million in direct economic impact within Wake County, the highest single-year total yet.
1] Ashley Christensen named America's best chef
was awarded the title of Outstanding Chef by the James Beard Foundation on Mon., May 6. The award is the highest individual honor for a chef, and Christensen is the only North Carolina chef to ever win the award. A fierce philanthropist and accomplished restaurateur, Christensen's includes six eating and drinking establishments.